Reputable and innovative
Brose's goal is stable, self-financed growth. This is how it has established itself as one of the top 40 companies in the industry worldwide. It is the fourth largest automotive supplier in family ownership and, with numerous patent applications per year, is one of Germany's most innovative companies.
Business Development
In fiscal 2020, the corporate group generated sales of 5.1 billion euros.
Brose ranks among the top 40 of automotive suppliers worldwide and is the fifth-largest family-owned company in this industrial sector.
Every second new vehicle worldwide is equipped with at least one Brose product.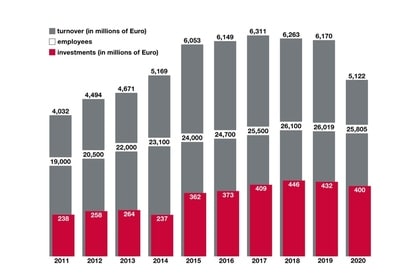 Clients
The Brose Group currently delivers mechatronic systems and electric drives to around 80 automotive manufacturers and more than 40 suppliers who use them for numerous applications in the automobile.